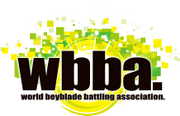 The World Beyblade Battling Association (stylized as world beyblade battling association. or most commonly as wbba.) is a organization featured in Beyblade Burst which acts as an international governing body of association Beyblade. The wbba. is responsible for the organization of Beyblade's major international tournaments, notably the International Blader's Cup.
The wbba. was founded to oversee international competition among the national associations of Beyblade clubs in Argentina, USA, Japan, Portugal, France, Germany, Mexico, Spain, Brazil, England, Korea, Australia, and Sweden. It's location of Headquarters is unknown, but its membership comprises hundreds of national clubs.
It's debatable whether the wbba. controls the rules of the sport, but it is responsible for both the organization of a number of tournaments and their promotion.
History
Sponsored events
Trophies and awards
External links
Community content is available under
CC-BY-SA
unless otherwise noted.