The BBG-11: Defense Type Stadium is the only Beyblade Defense Stadium. This Zero-G Defense Stadium, as its name suggests it is made specifically for Defense-Type Beyblades. It was Released under the Metal Fight Beyblade Zero-G Toyline on May 21, 2012 for 2,100円 in Japan.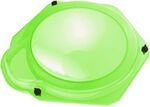 Overview
Appearence
The beyblade Zero-G Defense Type Stadium looks like a round stadium with one large penalty pocket on the side. It is colored a translucent slime green color. It has the same idea as the first Zero-G stadium. The point of this stadium is to use the bey's power and knock them out to one penalty pocket on the side.
Performance
The New Zero G Defense type Stadium doesn't move as much like the Zero G attack type Stadium. The surface of this stadium is flat, that is why it does not move all around. This is meant for beys who usually stay in the middle of a stadium like the Attack Type BeyStadium.
Videos
Trivia
It was released on the same day as Guardian Revizer 160SB.
It is the first, and currently only, defense-type stadium from Takara Tomy.
It is the second Takara Tomy stadium to have a penalty pocket. The first being the Balance Type Stadium.
Community content is available under
CC-BY-SA
unless otherwise noted.