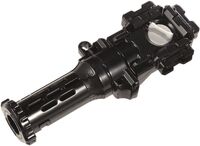 The Zero-G Launcher Grip is the Beyblade: Shogun Steel equivalent to the original Launcher Grip from the original Metal Fight Beyblade toyline. It was released on March 31, 2012 for 円525 in Japan.
Overview
The Zero-G version of the popular Launcher Grip retains the general appearance. However, there are various changes made to it in order to fit the Zero-G products. The handle is now thinner and sleeker for an easier hold. The cap at end of the Launcher used to store Bottoms returns in a thinner design that resembles a gear, indeed.
The rest of the grip is very intricate because the Zero-G Launcher Grip also has the capability of using all other per-existing Launcher accessories. These include the Beypointer, LED Sight, Angle Compass, and Rubber Grip.