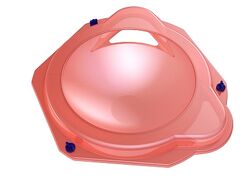 The BBG-18 Zero-G Balance Type Stadium is a BeyStadium released under the toyline, Beyblade: Shogun Steel. It was released on August 11, 2012 in Japan. It is used for Zero-G Balance Type Beys.
Overview
Appearance
It's color appears to be that of a transparent red color. It also features two penalty pockets. Also it has a small flat circle in the middle.
Performance
It moves on the beys direction just like the Attack and Defense type stadium. It does not move as much as the Zero-G Attack Type Stadium because of the flat circle-like surface in the middle of the stadium. This gives it the same effect of the Zero-G Defense Type Stadium but to a smaller extent.
Reception
Trivia
It can be viewed as the Zero-G counterpart to the

Balance Type Stadium

.
It can see that a Zero-G stamina Stadium will be released a little time after this is released.
Gallery